Skinny Candle Holder - Sage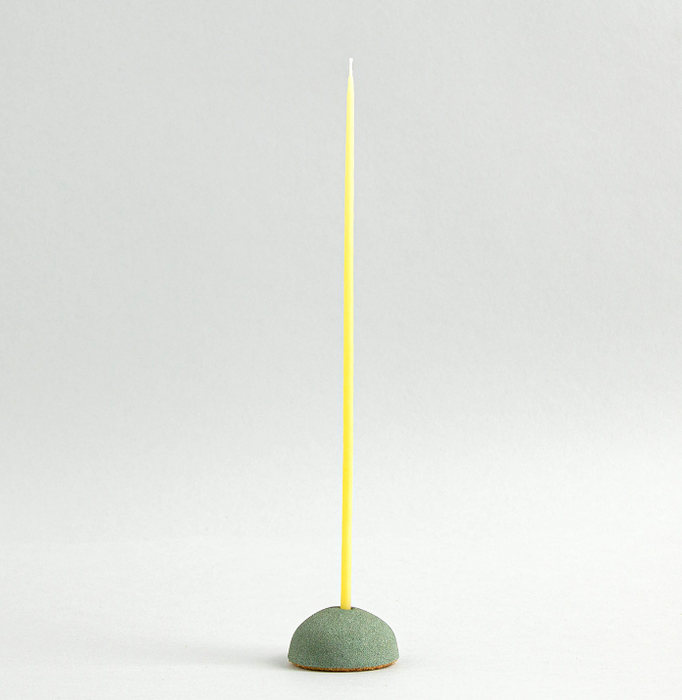 Hand cast by Noura at her home studio in Kent using low impact and sustainable processes.
The skinny candle holder has been created to cater for burning celebration or meditation candles too small to fit the standard dinner candle holders!  A beautifully simple holder in a domed shape, proportionately sized to display the candle elegantly.  Lightly textured surface
Jesmonite is a modern British invention designed as a lightweight alternative to cast concrete and eco-friendly and safe alternative to fibreglass and is now used widely by designers and artists as a material of choice for creating beautiful objects.  
You can wipe your Jesmonite pieces with a soft damp cloth. In case of spillage clean immediately using warm soapy water if needed and wipe dry afterwards. Please do not use abrasive materials.  Each piece is sealed for waterproofing but do not submerge or leave sitting in water.  To remove left over wax from the metal cup or dried spillages place the cup/holder in the freezer causing the wax to harden and shrink and come off easily.

Dimensions: 4.7 cm wide x 2.3 cm high.  Holds candles of 0.4-0.5 cm wide in diameter.  Weight: approx 50 g.
Made with cork base to protect surfaces.
Also available in other colourways.  See separate listings.