Angular Espresso Cup - Grey with White Glaze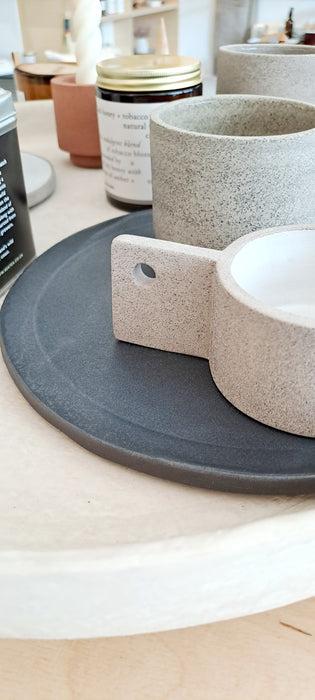 Made by Luke, on the wheel, at his ceramics studio on the Isle of Skye.
Handled cups made from concrete clay, glazed white inside with raw clay exterior.  Really lovely to hold and beautiful to look at too.   Great stackable design, creating a fun and design conscious silhouette.   Functionality paired with a careful eye to the beauty of the design.
Made from stoneware clay and thrown on the wheel. All sizes are approximate and may vary slightly due to the handmade nature of the design. Dishwasher safe.
Also available with alternative internal glazes in grey and black alongside handle free tumbler pots.  Limited numbers available until our next batch is thrown.   Good design certainly takes time.   Slow making at its best.
Size - 6cm wide x 3cm