Scottish Curried Kraut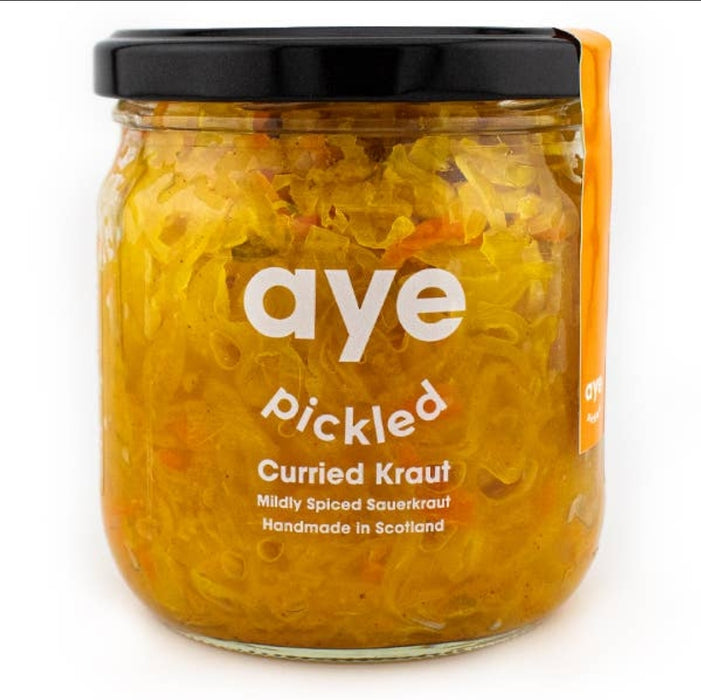 This mildly spiced, naturally fermented, sauerkraut is aromatic, sweet and tangy and bursting with flavour and goodness. 
Pack even more nutritional power into your next salad with this kraut or pair it with your favourite cheese, smoked salmon or sausage! As this product is raw and unpasteurised it could contain probiotics and promote good gut health. Vegan friendly. 
Aye Pickled 
is an award winning family business based in Edinburgh specialising in gourmet pickles and live cultured ferments made by hand, using traditional techniques.  A vibrant, bold and innovative brand.
Ingredients: Chinese Leaves, Gochugaru, Onion, Water, Mooli, Salt, Carrot, Spring Onion, Chives, Vegan "fish" sauce (water, dried shiitake mushroom, GF soy sauce), Garlic Puree, Root Ginger, Sugar, Glutinous Rice Flour (GF). • Product Language: English • Shelf life: 6–12 months • Weight: 0.57 kg (1.25 lb)
Contains: Celery and Mustard